Corporate Site
Online Shop
Explore the World of Dilmah
Dilmah in Hospitality and Food service
Integrity & Ethics
Dilmah Tea Inspired
Leisure and Hospitality
Knowledge & Training
Online Shop
Dilmah Founder Receives the Business for Peace Award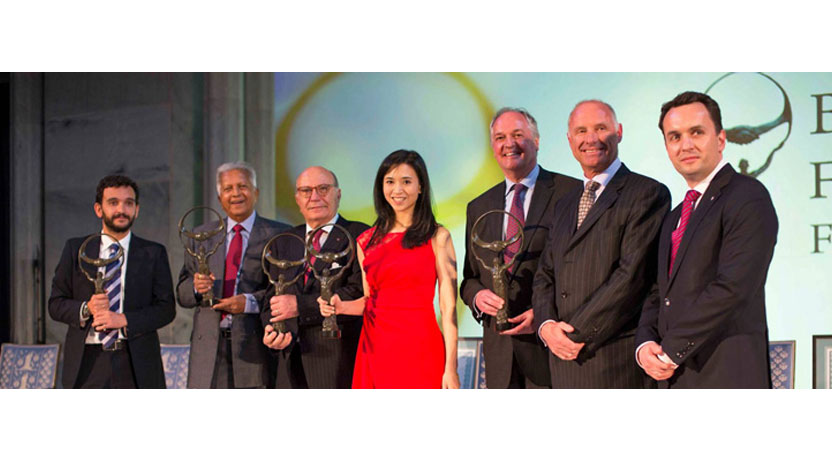 Dilmah Founder Merrill J. Fernando received the Business for Peace Award on the 6th of May 2015, in Oslo's most famous building, the City Hall, where the Nobel Prize is awarded annually. The Business for Peace Foundation annually names honourees for the Oslo Business for Peace Award in recognition of business persons who, 'through their own actions and commitments truly are business worthy, promoting socially responsible and ethical business practice in an outstanding way, and standing out as examples to the world.'
Accepting the award- a bronze figure entitled -The Just Man' – on his birthday, Merrill J. Fernando spoke of his parents' influence on the values that govern his businesses today. He paid tribute to the quality of Ceylon Tea as the foundation of his success with Dilmah Tea and declared that his achievement were only possible with God's guidance and Grace. The award was presented to him and the four other Honourees on Merrill J. Fernando's birthday. In a heart warming gesture, all 900 guests at the Ceremony sang -Happy Birthday' to the Dilmah Founder.
'Today this business is a global, much respected brand of Ceylon tea. Dilmah has re-established the image of Ceylon tea cross the world and is much known as ethical tea. That success is not my own alone. I decided to share what I have with the poor. And it gives me immense satisfaction' stated Merrill J. Fernando at an event held at the Peliyagoda factory premises with regards to receiving the Oslo award.
The Award Committee is formed by Nobel Laureates invited by former Swedish Prime Minister Hans Goran Persson, former Norwegian Prime Minister Kjell Magne Bondevik and Director of the Peace Research Institute Oslo Kristian Berg Harpviken. The governing Mayor of Oslo, Stian Berger Rosland, and Board Chair of Business for Peace, Per Saxegaard gave the opening speeches while Business for Peace Honouree, Founder and Group CEO of The Abraaj Group, Arif Naqvi delivered the Business for Peace Honouree Speech. This year's State of the Union between Business and Society was given by the S.C. Johnson & Son Professor of International Marketing at the Kellogg School of Management, Northwestern University, Philip Kotler.
The Business for Peace Award was initiated by Per L. Saxegaard, a banker whose commitment to recognising and encouraging sustainability in business led to the establishment of the award with considerable global support. Writing in the Huffington Post, Per Saxegaard declares, "We want the world to know: there are better ways of doing business ' effective ways ' that lead to stability and peace. Just look to the 2015 Oslo Business for Peace honorees. We need more like them now."
To learn more about the Business for Peace award visit:www.businessforpeace.no